Commercial conveyors are essential when you need to move materials frequently over a fixed path or between specific points. Most commonly, conveyor belt systems are implemented in production facilities to carry heavy products from point A to point B. The conveyors are also useful for storing and sequencing products between processes in an orderly fashion.
Conveyor systems are among the most flexible types of commercial equipment. When used correctly, a conveyor can save time, enhance productivity, boost efficiency, and improve safety in a processing facility. Choosing the right types of conveyors is critical to maximize their overall functions and benefits. This decision comes down to understanding your goals, your constraints, along with your speed and budget requirements.
Not sure which conveyor belt types you need? Learn about the many different types of conveyors and conveyor belt systems, along with their corresponding uses.
Type #1: Gravity Conveyors
The gravity conveyor is an excellent choice for those who want a low investment with high throughput and greater efficiencies. This conveyor belt type is versatile and cost-effective, often found in assembly areas, shipping departments, and warehouses. Gravity conveyors are commonly used for manual product staging and feeding, but they may also be used in assembly lines and workstations. They can be used as both temporary and permanent conveyor lines.
Gravity conveyors include ball transfer tables, gravity roller conveyors, and gravity skate wheel conveyors. A transfer table is used when products must be manually transferred, rotated, or positioned. A gravity roller conveyor is helpful for manual product transport, especially for products with irregular surfaces. A gravity skate wheel conveyor is suitable for conveying light products, making this type of conveyor ideal for portable applications.
Type #2: Powered Conveyors
Forward-thinking manufacturers cherish production flexibility and automation to cut costs and boost efficiency. However, designing a conveyor system can be complex and requires an advanced engineering solution. Enter powered conveyors, an innovative system that provides an energy-efficient way to convey. With these types of conveyors, your production and distribution environments will be modernized, streamlined, and made much more efficient.
Powered conveyors include belt conveyors, chain driven roller conveyors, and line shaft conveyors. A belt conveyor brings efficiency to the handling of various products, including bundled items, bulky boxes, wood sheets, and more. Chain driven roller conveyors are typically used to transport tires, drums, loaded pallets, and other heavy items. A line shaft driven live roller conveyor is designed for evenly distributed, flat-bottomed loads, such as those used in parcel handling, warehousing and distribution, or food packaging.
Other conveyor belt types include the modern powered roller conveyors (MDR) and the zero pressure (ZP) chain driven live roller conveyors. The MDR conveyor uses motorized roller technology that is predominantly found in high-speed warehouses and distribution centres. The ZP conveyor is divided into individualized zones, which can operate by allowing multiple products to travel downstream separately.
Type #3: Sortation Conveyors
The sortation conveyors are great if you're looking to sort thousands of different packages at a time. This type of conveyor is a modern system designed to handle various products with unique surface characteristics, profiles, and sizes. Products travel through a scanning zone, where each item is assigned a sortation route based on barcode data. Then, each package is sorted either left, right, or center on a ball belt transfer conveyor.
There are different conveyor belt types available depending on how you want to sort the products. Choose among a high-performance crossbelt sorter, horizontal crossbelt sorter, or vertical crossbelt sorter based on your sorting needs. The high-performance sorter is great for heavy-duty material handling and specialty applications. The horizontal sorter is optimized for curves and slopes, while the vertical sorter is ideal for compact and linear routing.
Type #4: Powered Extendable Conveyors
Powered extendable conveyors are primarily used to save time when loading or unloading trucks and trailers. These types of conveyors are built to last and can handle a wide range of products, including time-sensitive packages and fragile materials. They offer a modular design and can be custom configured for your needs. As a result, these conveyor belt systems offer maximum efficiency for a variety of truck or trailer loading and unloading processes.
Many types of powered extendable conveyor solutions are available, each with distinct features. For the best connectivity, the BestConnect conveyor is a modular system that enables warehouse personnel to sort packages quickly and easily. For the best flexibility, the BestFlex conveyor products offer high performance for centres that ship or receive large volumes of packages every day.
If accessibility is a key selling point, you will be interested in the BestReach system, which offers a rigid conveyor with ergonomic design and safety controls. For those with high-volume loading and unloading requirements, consider the MaxxReach Telescopic Series to optimize your material handling needs. Finally, the NestaFlex conveyor is ideal for heavy cartons with high-volume applications.
Type #5: Caster & Roller Decks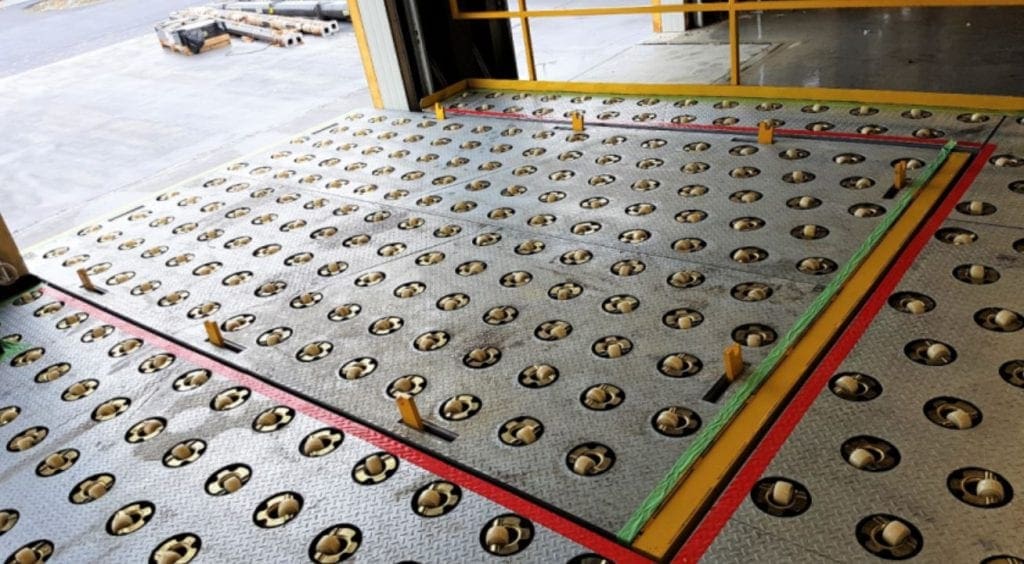 If you're simply looking for an easier way to manually move solid surface pallets, caster and roller decks may be your system of choice. These solutions are also good for transporting cargo carriers and unit load devices (ULDs). The heavy-duty decks can be customized in size, giving you various options to use with the roller, caster, and ball deck surfaces.
Mainway Handling Systems are the specialists in many different types of conveyors, each designed to accommodate different needs, budget, and constraints. Contact our experts in conveyor systems to learn more about the best solutions for your facilities!