When people talk about having a lot of space for something, they often refer to a warehouse. "You need a warehouse for your collections!" However, as a materials manager, you know better. The truth is that even a warehouse can fill up very quickly.
Maximizing storage density while at the same time keeping all of the products organized and accessible for a variety of orders can seem impossible. Fortunately, there are a lot of strategies you can use to improve your utilization of the warehouse space.
Read on to learn how to optimize warehouse space today!
Know Your Target Space Utilization
How much of your warehouse space can you use for storage without slowing down your operation? Most professionals suggest a target between 80% and 85%. Having this in mind can help you determine the most efficient and favourable layout for your products.
You want to ensure that pallet movement isn't restricted so that you don't waste time and money getting the products on and off trucks. Also, replenishment should be simple and not require multiple actions.
Map out your current layout, from rack positioning, product placement, and your picking approach. Pay attention to how your receiving and putaway processes are working and how these are affected by seasonal volume changes.
This will give you a starting point. You might decide you need a redesign, or you might choose another one of these material handling strategies.
Check Inventory Age and Stock Levels
Overstock can happen to anyone, and it clogs up warehouses all over the country. Unfortunately, this product that's not moving takes up space you need for more desirable goods. Avoiding overstock and knowing how quickly inventory turns over is essential if you're going to determine how to maximize warehouse space.
Fortunately, there are software programs that help you monitor your inventory and keep an eye on aging. Your reports should show the weeks of supply by SKU and how many weeks it takes to sell. That way you can notice overstock problems early and make plans for how to move that product and make room for better options.
Are You Using Vertical Space Well?
Your current use of vertical space might be limited by your shelving and forklift usage. If that's not enough, consider automated storage and retrieval solutions (ASRS) that can maximize your vertical utilization. For example, the Unit Load ASRS we offer can extend up to 100 feet high and hold loads up to 5,500 pounds.
As you extend your storage upward, make sure you're noticing how the expansion affects the overall operation of the warehouse, especially the fire and safety systems. You want to keep your warehouse safe and up to code.
When you start taking advantage of ASRS, you might find that your overall efficiency increases significantly, because the automated system will be more consistent than human pickers, along with being more affordable and able to run longer hours.
Where Are Your Offices Located?
Finding a place to do administrative work in a warehouse is a tricky situation because no matter what you choose you're taking space away from your storage operation.
Take a look at your warehouse floorplan as though there was nothing in it. What area is the least useful for storage? How difficult would it be to place the offices there? Obviously, you don't want to put your administrative staff in danger or extreme discomfort, but spots where the ceiling has to be lower or the corners are odd are good choices.
If your warehouse has other non-storage functions like packing or shipping, pay attention to the unused space in those areas. Can you take advantage of them for additional storage, perhaps by using gravity conveyors or other processes to get the products to and from the area?
Don't assume that non-storage functions have to damage your utilization of the warehouse space. Instead, look for ways to take advantage of every available option.
Optimize the Size of Products Stored on Each Shelf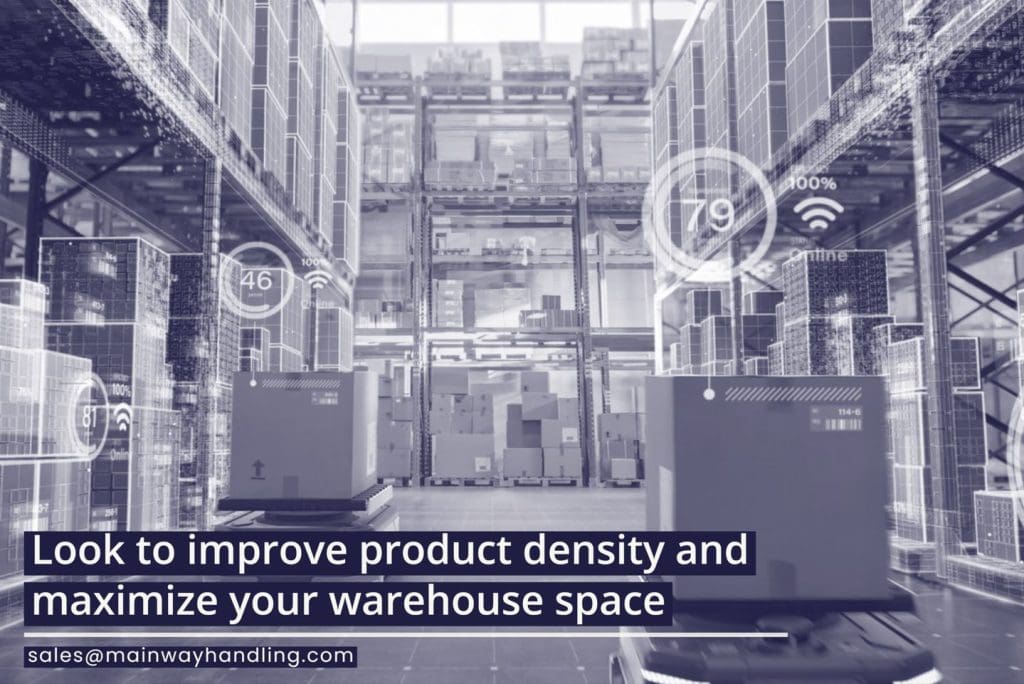 As you look for how to improve product density and maximize your warehouse space, take a look at your storage racks and the size of the products stored there. If you have all of your shelving set with the same vertical spacing you could have excellent opportunities to optimize.
For example, if an entire row has smaller products and the clearance between the box and the rack beam above it is significant, consider respacing those shelves and putting more product in that area. Or, you can shorten the shelving in one area and consolidate the smaller boxes, freeing up shelving for other products as a result.
When you are clever about how you mix smaller and larger products in your shelving system, you can maximize storage and take advantage of oddly-sized items by pairing them with other too-small or too-large products on the same shelving.
You can do the same with unpackaged parts. Instead of using the same sized tote in every circumstance, use smaller totes when possible and fit more on the shelf. If needed, you can use larger totes on other shelves.
Pay Attention to the Pareto Principle
The Pareto Principle states that 80% of the results come from 20% of the causes, and it's been successfully applied to a wide variety of situations. For a warehouse, you'll probably notice that 80% of your activity comes from only 20% of your racks.
Once you've noted which racks are the most active, store them together in the most accessible locations. That will make it easier for your pickers to get the product they need quickly and easily. Of course, be sure to spread out the racks enough that you avoid having traffic jams in the rows with the high-activity products.

Another great solution would be to use an ASRS for the highest activity SKUs. That would not only improve the efficiency of the majority of your activity, but it would also help you save money on staffing and reduce congestion in the warehouse.
Are You Maximizing Your Warehouse Space?
Now that you know how to maximize your warehouse space, it's time to take action. Each of these suggestions will make a big difference in your efficiency and profitability. When you optimize your warehouse and product density your staff will be effective as well.
Mainway Handling Systems would love to show you how our conveyors and ASRS systems can help you. Contact us today for more information!