Warehouse and storage facility processes can be complicated to understand. You could imagine how materials go back and forth and are eventually stored to where they belong. To make these processes simple, we turn to material handling as the most viable solution.
Mainway Handling Systems have been providing excellent and topnotch material handling and system integration services since 1988. If you're looking into improving your warehouse processes but not sure how our material handling solutions can help your business, you've come to the right place.
What Is Material Handling?
Material handling is the process of handling materials inside your warehouse. This process is broken down into moving, protecting, storing, and controlling products and materials. It uses a wide range of warehouse equipment, such as pallet trucks, forklifts, and conveyors. Material handling equipment is only designed for warehouse use.
Material handling covers the movement between vehicles, storage rooms, and conveyors. To some extent, employees are involved in manual and technical tasks.
What Are Material Handling 'Systems'?
A term closely associated with material handling systems is "supply chain". This is the process of making and distributing products. The raw materials are taken to the supplier to make the product. After the production, the products are taken to warehouses to be kept before delivery. 
This is where material handling systems come into the picture. Every process in the supply chain is performed by material handling systems. This includes protecting, controlling, storing, and moving the products before they reach the customer.
How Material Handling Systems Work
You might think that material handling is a smooth-sailing system, but in reality, it's a long process that needs the attention of warehouse managers. From production to delivery, every process is painstakingly executed to reduce overall costs. Material handling systems have various areas that make the delivery of the products to the customer easy.
Automation is the use of software to carry out repetitive tasks and reduce potential errors along the way. With automation, humans do more important tasks and let robots and technology do the sorting and storage of products. 
Assisted Working Equipment
Technology can assist in making a more efficient and safer workflow for humans. Using material handling equipment for lifting, conveying, and storing will greatly benefit both the supplier and the customer if products are stored carefully.
Software is an essential part of material handling. It helps in tracking items inside the warehouse. With faster tracking comes faster delivery. Customers are provided with real-time updates about the status of their product deliveries.
Sustainable Green Solutions
As technology advances, the impact it makes on the environment is palpable. Sustainable practices that help save the environment will cost companies less. It is not just a matter of a business decision but also a conscious effort to save the only land we can live in. 
Why Establishing Material Handling Systems is Important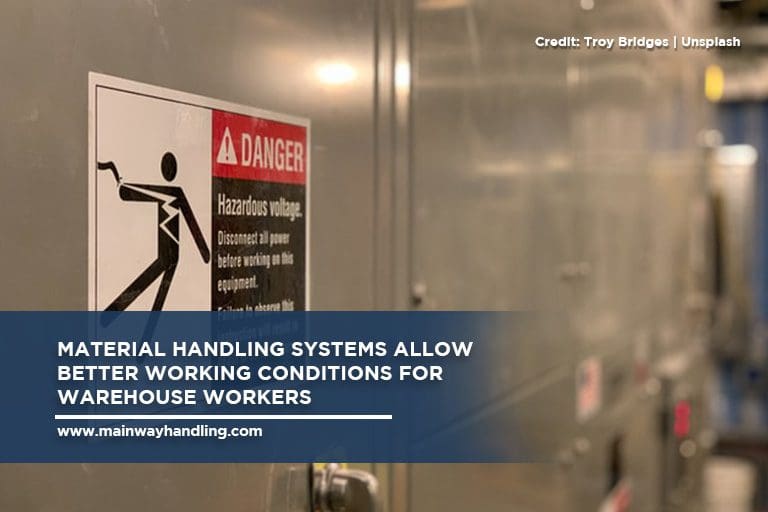 Material handling systems are some most helpful innovations in the supply chain industry. Moving products from one place to another needs time and proper execution. Material handling systems help by creating a plan on how to move and store products without damaging them in the process.
When it comes to warehouse operations, a proper material handling system is important because it allows for:
Safe and convenient transportation of materials into different floors
Every material to be distributed to customers must be stored safely. Any defective product that ends up in the customer's hands will reflect on how companies do their work. It creates a bad reputation for the company.
Streamlined work processes
Warehouse operations have a lot of tasks to carry out in one single day. With material handling systems, each of these tasks and processes are simplified to save time, energy, and resources.
Products inside a warehouse can take up too much space if not arranged properly. Material handling systems organize where products should be put to give room for others. An organized space allows better movement for both employees and the machines.
Accidents happen inside the warehouse if things aren't properly organized. Material handling systems help put products in the right place to reduce accidents and human and technical errors.
Despite the number of products and deliverables warehouses have, safety should still be a priority to achieve maximum efficiency in operations. Make sure that every policy is geared towards the safety of employees and the efficiency of the processes.
How About Integrated Material Handling Systems?
Integrated material handling systems is the combination of using equipment and software to help receive, store, and deliver items to their proper recipients. This system is used in a variety of industries, such as aerospace, construction, pharmacy, retail, and e-commerce. Generally, an integrated material handling system is characterized by being:
This system ensures a continuous and smooth flow of materials in the entire production stage which includes manufacturing, storing, and shipping. Coordinated integral material handling reduces delays in the whole process.
A cohesive system incorporates manual, semi, and fully automated mechanical interaction with products. It also collects and stores information that helps in manufacturing, receiving, and storing items.
This system connects two or more material handling devices to help in carrying out activities as precisely as possible.
Integrated material handling systems provide companies and warehouses with a number of benefits including:
Products travel from one point to another inside the facility using a certain piece of equipment. A smooth system must be used to take better control in locating a particular product.
<iframe width="560″ height="315″ src="https://www.youtube.com/embed/Hmo8OH_leS8″ title="YouTube video player" frameborder="0″ allow="accelerometer; autoplay; clipboard-write; encrypted-media; gyroscope; picture-in-picture" allowfullscreen></iframe>
Using an integrated system that monitors the specifications and locations of items, you won't find it hard to improve managing the inventory for the whole warehouse.
Systems and equipment are connected to simplify work processes and avoid delays in transporting and delivering products.
Using integrated material handling systems seems like one big puzzle, considering the scale and scope of the warehouses and storage facilities where they're being applied to. Mainway Handling Systems breaks down these processes in different areas:
A part or raw material is released for processing.
The item is transported to its right destination with a conveyor.
Order releases are sequenced to reduce travel times.
Materials are then processed for production.
When production is over, the finished products are released from storage and sent to pick locations.
While it looks simpler this way, one system or solution will always differ from the other. This rings true especially if your warehouse or storage facility has specific systems needs that have to be addressed. Email sales@mainwayhandling.com to learn more about how we can customize a material handling system that's a perfect fit for your business.