As you usher in the New Year and take on the coming supply chain challenges, the warehouses that you've been managing need some kind of a revamp. Trends come and go, and in industries that need warehouses, adapting to big and small management changes is always a must. Just like your personal New Year's resolutions, warehouses need some of them for the upcoming year.
Up your distribution center and warehouse management game this 2022 with these New Year's Resolutions to live by:
1. Taking advantage of automatic data collection technology
Everything that comes under the roof of your warehouse is accounted for. When you lose even one item, expect your business partners to turn their backs on you. Gone are the days where you have to write numbers and descriptions of items in long lists on paper. With automatic data collection technology, every data on your item is recorded in the system. 
To use automatic data collection technology to its fullest, you have to:
Invest in barcode scanners
In industries like retail, barcodes are important for labeling products. Using a barcode scanner to scan items and input data to the system makes inventory management easy for everyone.
Caption: Got stocks to keep in check 24/7? Consider RFID this 2022
Credit:
RFID stands for radio frequency identification. RFID is used in tracking and sorting items in a warehouse, so each one would be easily recovered in case of loss, neglect, or human error. RFID has been proven helpful in stock management in many warehouses across the globe. 
Automation of data collection is useless without reliable software. You won't have a streamlined system of organizing data. You'd pay a huge price when getting one, so make sure it's worth the investment.
2. Adopting advanced software
Any company would want to invest in an advanced software to ensure smooth business operations. An advanced software streamlines the processes of a warehouse management system. Items are tracked properly and errors are minimized. Before adopting a new software for your warehouse, make sure to consider the following factors:
Software should be easy to use. No one would put up with a software that can't perform even the most basic function. The usability of the software you're going to use for processes like inventory management affects other tasks no matter how grand and expensive it might sound. Lastly, the software you use should address present and future needs to make it worth the investment.
This issue is always tied with software or any kind of technology. Data has to be secured at all costs especially when you're handling products and customer information. Choose software that can secure data for longer periods of time without compromising it.
The software you need depends on how complex your warehouse operations are. Evaluate your daily operations and your software choices. Match the software with the complexity of tasks in the warehouse to avoid problems in the future.
Software gets abandoned if it's slow in every sense, and its speed can make or break the operations. Slow software wastes time in carrying out simple tasks which could have been reduced by using the faster ones instead. Always do a few tests with a software before implementing it in the warehouse.
Whether you like it or not, cost plays a huge role in picking software for inventory and other warehouse processes. Get one that doesn't create a huge dent in the budget but has all the features you need.
3. Installing proper insulation in the warehouse
The temperature you set inside the warehouse can affect the items and your employees. Poor insulation forces more work on the heating and cooling systems and shoots up your energy bills.
4. Using multiple warehouses
Having multiple warehouses gives you two main benefits—easier delivery of items depending on the location and additional storage if one of the facilities runs into some problems. You don't know what might happen around you that can affect your business. A political upheaval or a natural disaster can affect your warehouse in one way or another. A backup warehouse assures you that items remain protected at all costs.
5. Using sustainable packaging
As a business owner and warehouse manager, it is your responsibility to care for the environment while making sure business goes smoothly. Plastics take hundreds of years to decompose. Make the switch to biodegradable packaging and do your part in curbing the amount of waste going to landfills. Biodegradable packaging can also be used as compost, so you give back to nature in little ways.
6. Evaluate the whole warehouse process
Warehouse processes are the same each day. Products come in, get stored, and leave the warehouse after some time. You get so used to the usual flow of items that you may think it's perfect—until you spot some issues along the way. Make it a habit to evaluate every process that takes place in your warehouse and change what you can improve. Look at the warehouse's layout and determine the amount of space to optimize. Doing all these will save you time and money.
7. Training and invest in employees and equipment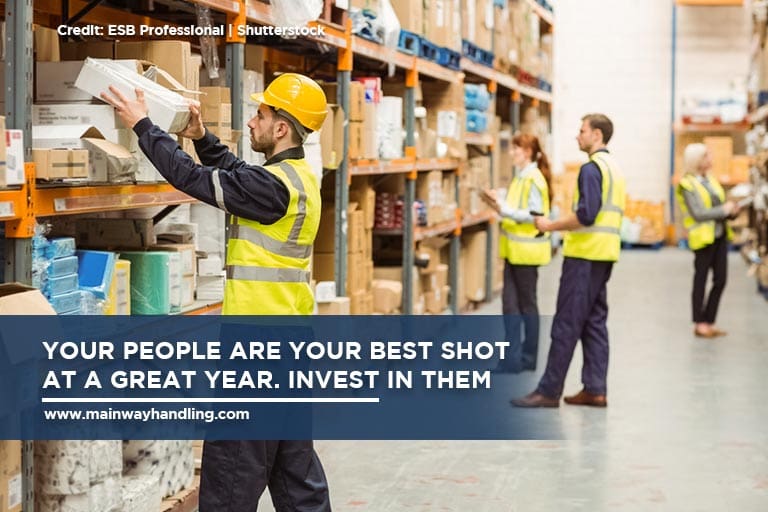 No matter how much money you invest in your warehouse, it won't thrive without people and equipment. Your human workforce is still an important part of the automated warehouse. You can assign your employees different tasks that break their usual mundane cycle.
Invest in energy-efficient equipment to pay less for electricity, cut more costs, and improve inventory management systems. Drones are helpful in accurately finding items within a certain perimeter. These save time compared to human employees flipping the warehouse upside down just to find the missing item.
8. Considering systems integration and warehouse automation with Mainway Handling Systems
You might not have a single idea about automating your warehouse processes in Canada. Mainway Handling Systems will help you get started. Systems integration and warehouse automation are our best services. We also do material handling and conveyor design with all the equipment and turn-key solutions at our disposal.
Send us an email at sales@mainwayhandling.com to jump start your New Year's resolutions for your warehouse!